Total:

30 minutes


Diners: 3-4
The salad is one of the undisputed queens of national tapas and one of the most popular starters at family meals on Sundays, but its classic version, made with potatoes, always needs planning, because in addition to being cooked and peeled, they must have time to calm down.
Unless we're looking for a substitute for potatoes that works well in a recipe like this, cooked chickpeas—a few jars in the pantry are always a lifesaver—are the solution we've all been needing. On the one hand we will have a salad ready to eat in record time and on the other hand a portion of legumes without having to resort to spoon dishes, which we already know many people don't like.
Of course, the recipe is adapted to everyone's tastes and, as we would with a potato recipe, we can remove and add more or less ingredients as we like, this time, for example, we have left out the peas and green beans, but instead we have added some lightly sautéed peas with the carrot cut into very small cubes which have given a very nice crunchy touch.
And, to make the most of everything, instead of traditional egg mayonnaise, we made a vegan mayonnaise – although it won't be in this recipe – with the water from the chickpea jar, tuna oil and a little anchovy.
Chickpea salad recipe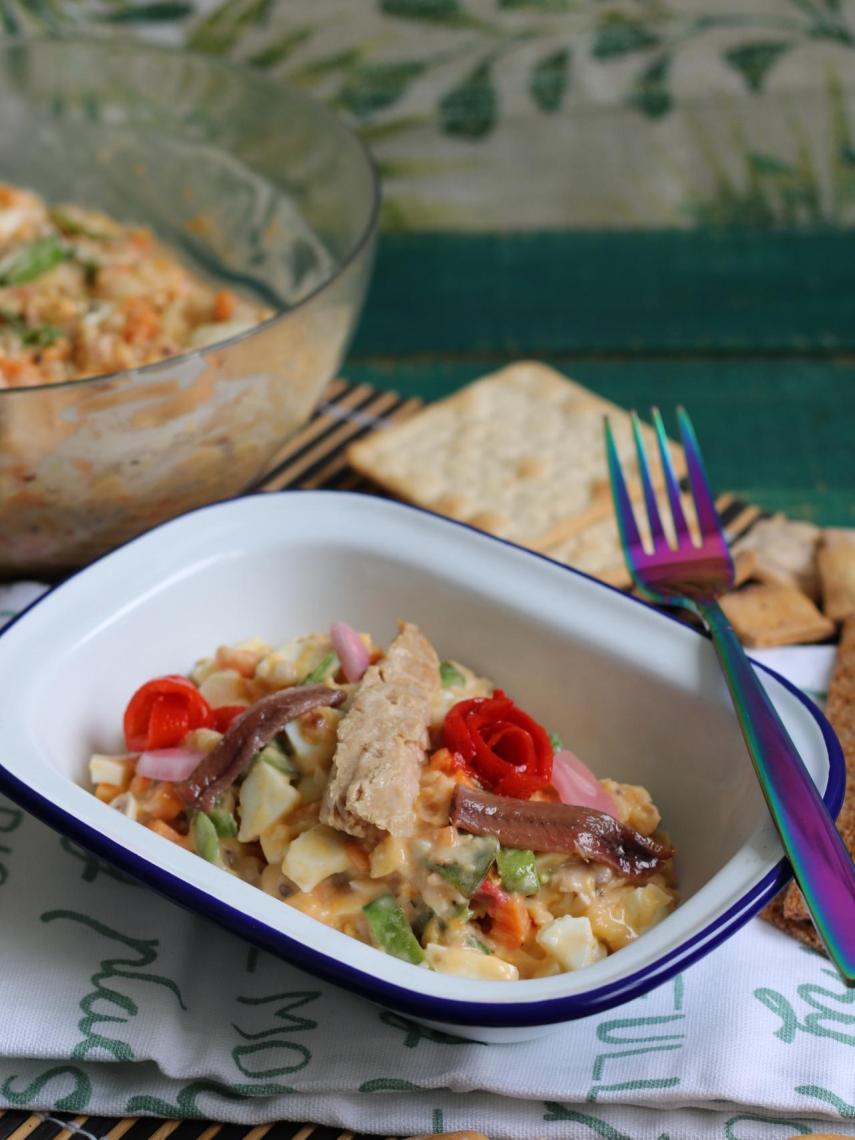 Components

Canned chickpeas, 1 large jar

Shallot, 1 unit

Marinated olive mince, 3 tablespoons

Boiled eggs, 4 units

Snow peas, 75 g

Carrot, 1 unit

Tuna in olive oil, 1 oval box or 2 small ones

Extra virgin olive oil, 1 tsp

Salt
For the anchovy mayonnaise
Chickpea water, 70 ml

tuna oil

Anchovies, 3 units

Extra virgin olive oil, necessary amount

Lemon juice or vinegar, 1 tbsp

Salt
At your disposal
Belly bonito, 1 can

Grilled piquillo pepper strips

pickled onion

Anchovies, 5 or 6 units
Step 1
Clean the carrot and cut it into small squares. Wash the peas, remove the side threads and cut them into strips. Heat a tablespoon of oil in a pan and sauté them for two or three minutes with a pinch of salt. Remove from heat and keep away from heat sources to cool while we do the rest of the steps. Boil the eggs and leave them in ice water.
Step 2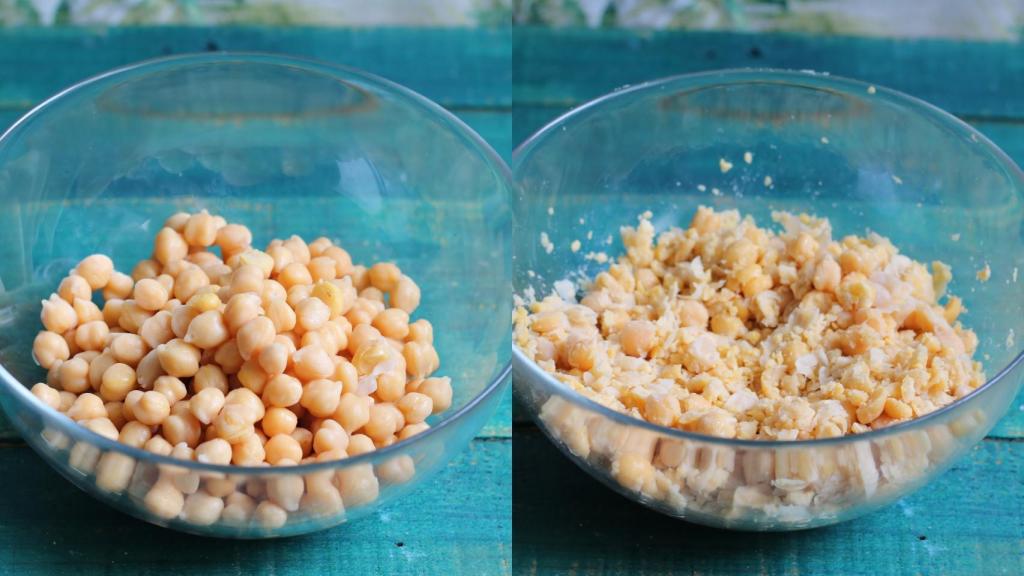 Drain the chickpeas, reserving the cooking water that goes into the pot, and rinse them thoroughly under a stream of cold water until the water stops bubbling. We drain them well from the water, put them in a large bowl or in a salad bowl and crush them with the help of a fork. If they release a lot of skins, we will remove them.
Step 3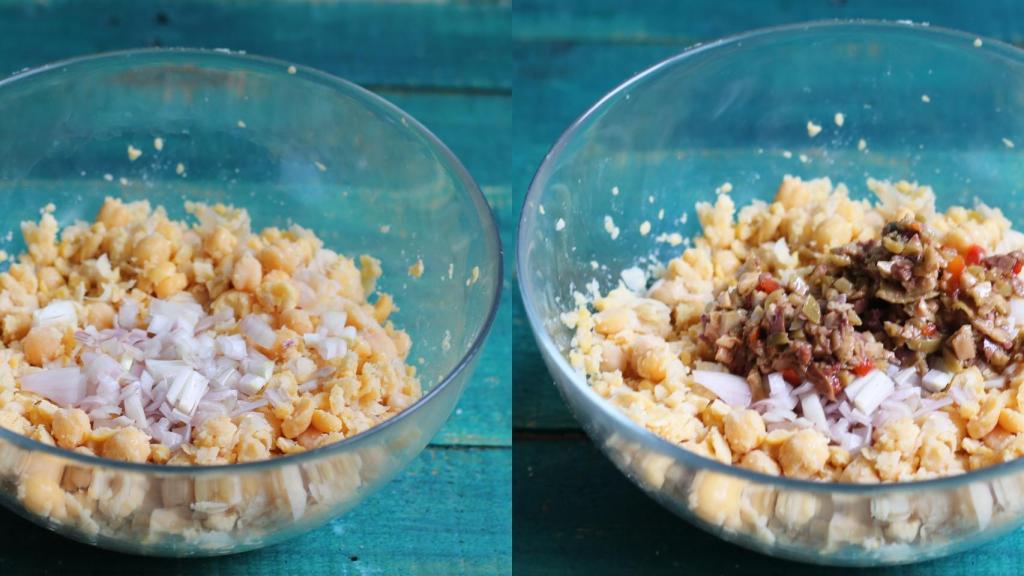 We add the very finely chopped shallot and the seasoned olive mince, which can be replaced by the olives we like best.
Step 4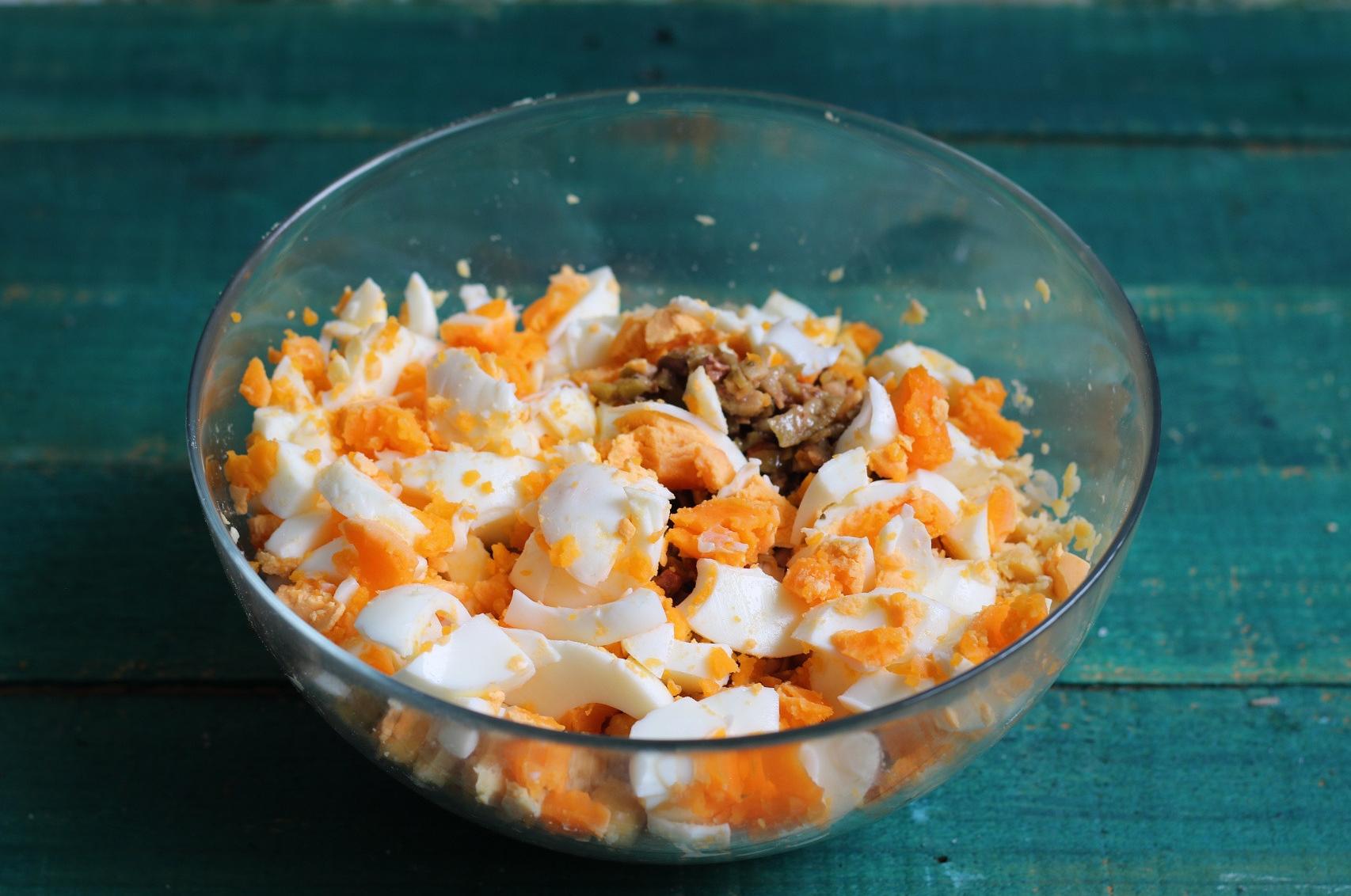 Peel the boiled eggs, cut them into pieces and put them in the bowl.
step 5
Añadimos las zanahorias y los tirabeques salteados.
Paso 6
Reservamos el aceite del atún y escurrimos bien este antes de añadirlo a nuestra ensaladilla de garbanzos.
Paso 7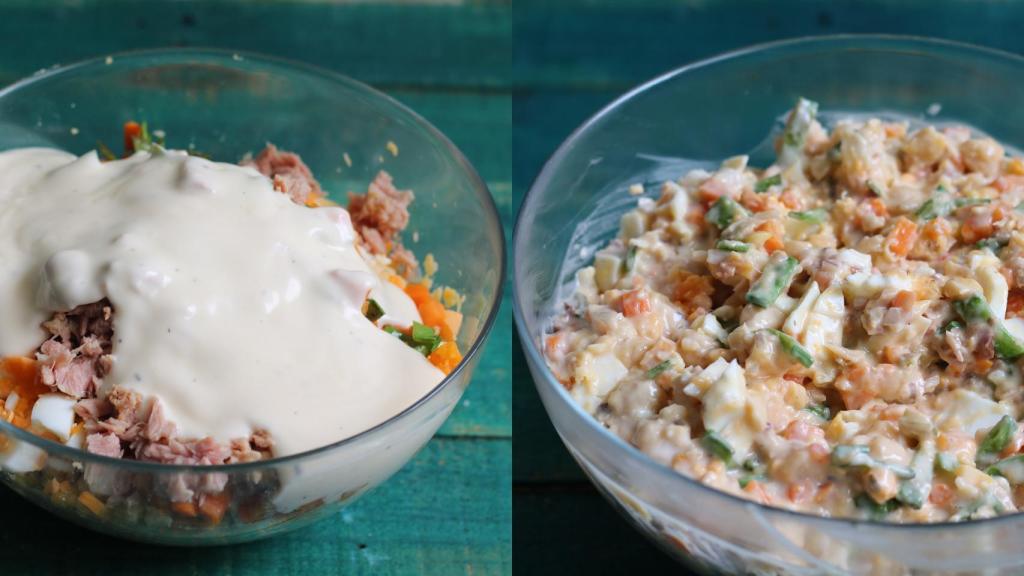 En el vaso de la batidora ponemos el aceite del atún y completamos con aceite de oliva virgen extra hasta tener 140 ml -el doble de volumen que de agua de los garbanzos-, añadimos 70 ml del agua de los garbanzos, una cucharada de vinagre o de zumo de limón y 3 anchoas. Emulsionamos con ayuda de una batidora de brazo del mismo modo que haríamos una mayonesa tradicional con huevo. Si es necesario, rectificar de sal.
Paso 8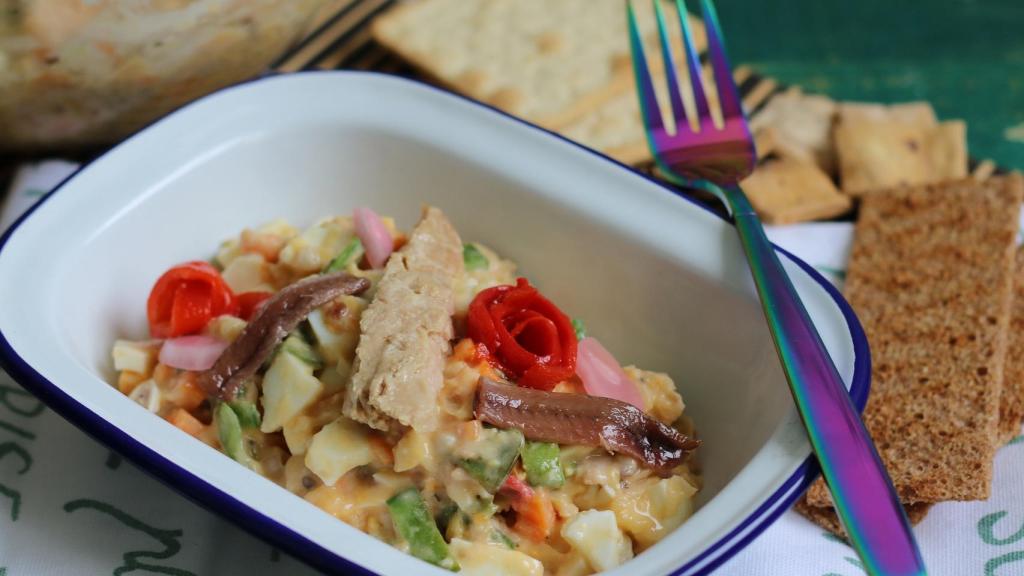 Servimos nuestra ensaladilla de garbanzos con unas tiras de pimiento del piquillo asado, una anchoa troceada, cebolla encurtida y alguna lasca de ventresca de bonito. Podemos acompañarla de un surtido de panes crujientes.
Sigue los temas que te interesan